3 Reasons Your Business Needs an Instagram Account

Your Business needs an Instagram account to tap into a wider audience of potential customers. 
You have heard of Instagram, well unless you have been living under a rock. The web-based photo sharing website is
popular for a reason
. It serves to connect people using something as simple as an image.  From movie stars to chefs, the social media platform has millions of people engaged daily. There are a variety of ways that you as a small business owners can use Instagram to grow your business and connect with customers, regardless of your industry. So what does this have to do with you? Your business needs an Instagram account for 3 reasons: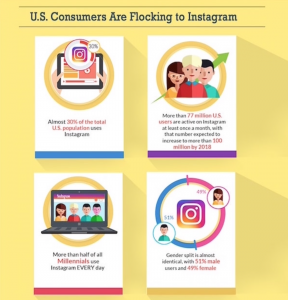 Business Profile
On Instagram the business profile option allows you to not only claim your business and its presence on the social media site, but with one click customers are able to get directions to your. Like all other business listings, it is important to have control of your presence online. You want too be able to provide accurate and up-to-date information on every major platform. Your business needs an Instagram account to make that happen.
300 Million Daily Users
With all those users vet visit Instagram daily, you're sure to attract new customers. The site boasts 4.2 billion likes daily. In case you didn't know, likes are the heart option when you "double-tap" a photograph. With that being said Instagram allow you access to a whole other segments of the population that you may not have been able to tap into.
People like pictures
It's that simple studies show that consumers respond better to visual because they only remember 20% of what they read and 10% of what they hear. 80% of visual cues are retained. With that being said Instagram is ideal for Brands who want to make a lasting impression on consumers. 90% of Interbrand 100 Companies have Instagram accounts.
Grow your business using the photo-sharing website Instagram with very little effort. We said it before and we'll say it again, your business needs an Instagram account. Get started by visiting Instagram.com.
For more information on registering for the Entrepreneur Magazine webinar on using Instagram for your small business check out the webinar on August 4th, check out this link.