3 Fourth of July Ideas That Will Be a Blast at Your Business

Holiday and seasonal promotions are important for your business. This summer there are myriad opportunities for you to promote and grow your brand. Last week on the Silver Rock Blog we discussed the various holidays that you can celebrate at your business. With Independence Day right around the corner, the opportunity for business owners to benefit is here. Silver Rock Funding wants to make sure that your small business thrives during this time. Here are 3 Fourth of July Ideas that you can implement at your business.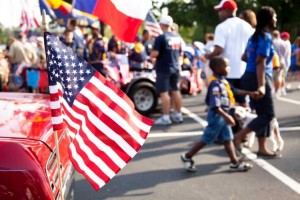 Promotional Products
Whether you are selling the items or giving them away, seasonal promotional items are pleasing to customers. Promotional products are considered by some to be a "silent salesman," reminding customers of your business and services. Many businesses switch their inventory based on the season. Restaurants may introduce seasonal dishes or beverages. Clothing retailers, undoubtedly, sell weather-appropriate items.However, even when you do not have a traditional retail company, promotional material can still be useful for your customer.
Whether you want to distribute free personalized volley balls or customized ink pens, promotional products act excellent Fourth of July ideas for your small business. When buying items in bulk you can get some customized products for as little as a dime each. If you need assistance covering the cost of purchasing and distributing your promotional products, let Silver Rock Funding connect you with up to $500,000.
Partner Up
Link up with another business owner to expand your audience and abilities. You might think that it's too late, but honestly,  look at you, you are still searching for Fourth of July ideas. Uber thought this was an awesome idea. So, the popular ride-sharing service did this two Independence Days in a row. Uber partnered with Liberty Helicopters Inc. to provide direct helicopter rides from a New York helipad to East Hampton. For $3,000 the helicopters carried 5 guests on the 40 minutes ride. This is a perfect example of a company connecting with another to fulfill a client "need." Additionally, the company has partnered with restaurant owners through UberEats and, this week, they have announced a hot air balloon service in some areas.
We recognize that you may not be the owner of the world's most popular ride-sharing service, but partnership opportunities are possible. If you are a restaurant owner, you can partner with a local clothing retailer for branded t-shirts. Insurance company owners can partner with local dentists to distribute coupons after purchases. Get creative! Silver Rock Funding can assist the promotions for your partnership, if necessary.
Photo Contest
Social media marketing is a simple and carefree way to spread the word about your business. From publicizing new sales and promotions, various platforms can be useful. This week, many media outlets covered the growing popularity of Snapchat for business owners. According to Business Insider, they have the most engaged users out of other social media platforms. That still has not slowed down the use of other social media websites. That's why the third on our list of Fourth of July ideas involves social media.
In this technology age, photo-snapping is a common place. Many entrepreneurs have found ways to incentivize this. Your business can, as well. Hosting a social media contest for your business can be fun and engaging this Independence Day. Offer customers a free voucher for your business or a complimentary item and they will be eager to participate.
A photo contest is a great way for your customers to promote your business on their social media platforms. Add a seasonal element to the contest details. For example, customers must take a photo with the flag pole outside of your business. When their friends see the photos that they tag  your company in, interest in your business is stirred.  See these tips on kicking off your social media photo contest.
If you need funding to implement these Fourth of July ideas, let Silver Rock Funding assist you. We connect small business owners with funding for their businesses. Funding is available for promotions. new merchandise, equipment, and inventory. Anything that you need the cash to cover, Silver Rock Funding has access to investors for it. Complete our simple application, today.